Balloon Angioplasty
As a minimally invasive procedure designed to open and improve blood flow in the body's arteries and veins, balloon angioplasty has become a very popular treatment method for a variety of vascular conditions including:
Narrowing of the aorta and its branches – due to a buildup of cholesterol and plaque (fatty deposits) resulting in atherosclerosis (hardening of the arteries)
Peripheral artery disease or PAD (narrowing of the arteries in the legs or arms)
Renal vascular hypertension or high blood pressure (narrowing of the kidney, or renal arteries)
Carotid artery stenosis (narrowing of the arteries in the neck that supply the brain with oxygenated blood)
Coronary artery disease (narrowing of coronary arteries that supply blood to the heart)
Venous narrowing of the central veins (chest, abdomen, pelvis)
Narrowing in dialysis fistula or grafts (when there is decreased blood flow in the fistula or graft, angioplasty is performed to make dialysis possible)
Specifically, a balloon angioplasty is an image-guided procedure in which a balloon-tipped catheter (long, thin plastic tube) is moved into an artery or vein, where it reaches the narrowed or blocked area. The balloon is inflated, opening the vessel. Next, it is deflated and removed. When the angioplasty is performed with a stent, the stent may be placed within the vein permanently to help it stay open. The stent may be comprised of a wire mesh or it may be covered (stent graft).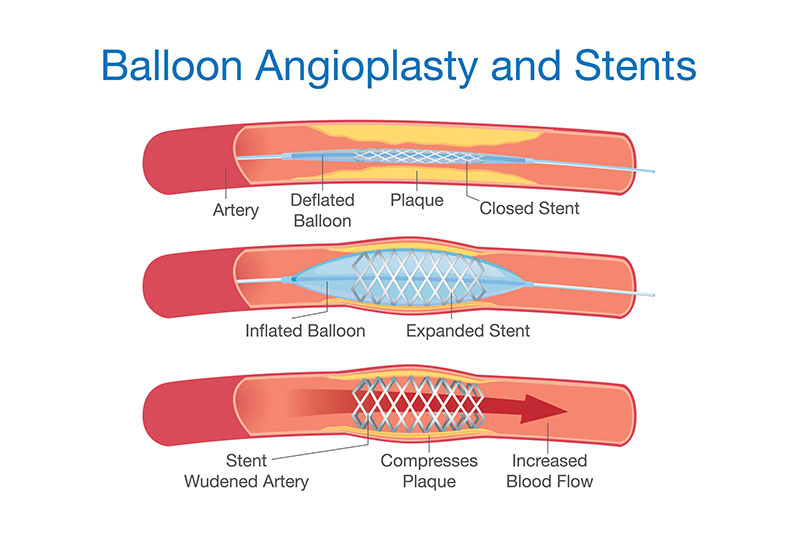 Balloon Angioplasty and Peripheral Vascular Disease (PVD)
While angioplasty with stent placement is associated with the aorta (major abdominal artery) as well as the iliac arteries (branching off from the aorta), balloon angioplasty of peripheral vascular arteries such as femoral, popliteal and tibial are often performed without a stent. This is mostly due to the risk of trauma to the stent in these areas. Even so, balloon angioplasty is effective for opening of narrowed arteries in individuals with peripheral vascular disease (PVD).
As a major symptom of PVD, claudication is pain, aching and a feeling of heaviness in the leg(s) that is caused by insufficient blood flow. Angioplasty works to restore blood flow in the lower extremities, relieving intermittent claudication and ultimately helping patients walk farther and longer without experiencing leg pain. While the effectiveness of balloon angioplasty is related to the size of the artery, how large the area of blockage is and whether the artery is narrowed or completely blocked, it remains a dependable, lower-risk treatment for PVD than open surgical intervention.
Board Certified General, Vascular and Endovascular Surgeon, Dr. Alan I. Benvenisty, MD, delivers individualized patient care in New York City. With a specialty in non-invasive vascular diagnosis and a particular interest in performing minimally invasive techniques and procedures, patients benefit from Dr. Benvenisty's conservative and conscientious approach. To meet with Dr. Benvenisty, contact our office Amsterdam Avenue today.