Thoracic Aortic Aneurysm
When the wall of an artery weakens, causing it to widen or balloon, it is called an aneurysm. Specifically, a thoracic aortic aneurysm is when this occurs in the largest artery in the body—the aorta, which passes through the chest (thoracic region).
Chances are, you've heard of instances where aneurysms have ruptured. This happens when the aneurysm grows rapidly and tears open. In other cases, the aneurysm may develop and expand, resulting in blood leaking along the aortic wall (aortic dissection). In both of these cases, symptoms begin immediately. Even so, some aneurysms develop over the course of many years and present few, if any symptoms. It's important to be aware of the following symptoms in the event that an aneurysm begins to press on surrounding structures. Individuals may experience:
Problems swallowing
Stridor-breathing (high pitched breathing)
Swelling of the neck
Hoarseness
Nausea or vomiting
Rapid heart rate or heart palpitations
Chest and/or upper back pain
Clammy skin
While the primary cause of a thoracic aortic aneurysm is hardening of the arteries, those with high cholesterol, chronic high blood pressure and smokers are considered at risk.
Proper diagnosis and treatment of aortic aneurysms require extensive knowledge and insight into the behavior of aneurysms. It is important to consider their size and the overall health of the patient as well as complications and risks associated with different methods of intervention.
General and Vascular Surgeon, Dr. Alan Benvenisty brings extensive experience with a unique perspective to the treatment of vascular disease, including the repair of thoracic aortic aneurysms. Whenever possible, Dr. Benvenisty values non-surgical or minimally invasive techniques, which is why many patients in the New York metropolitan and surrounding areas seek his expertise. Dr. Benvenisty is currently accepting new patients at his office on Amsterdam Avenue. Call today to schedule your appointment.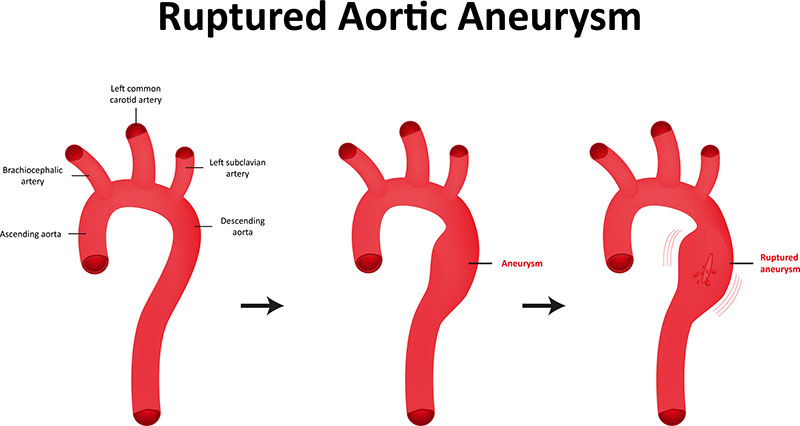 Treatment Options for Thoracic Aortic Aneurysms
For many patients, discovering that they have a thoracic aortic aneurysm is a shock, as most are detected on imaging screens performed for other conditions. If you find yourself in this predicament, it's vital to seek treatment quickly.
Treatment depends largely on the location of the aneurysm. To better understand, consider the three parts of the aorta—the ascending aorta (moves upward towards the head), the aortic arch (the curved middle section) and the descending aorta (moves downward, towards the feet). Typically, when an aneurysm is detected in the ascending or aortic arch and is larger than 5 centimeters, surgery is often suggested to replace the aorta. On the other hand, when an aneurysm is discovered on the descending thoracic aorta, surgical options vary and endovascular stenting may be recommended. Less invasive, endovascular stenting can be placed without a major incision.
Options for the treatment of thoracic aortic aneurysms require careful consideration of an individual's candidacy for specific methods, their overall health, pre-existing medical conditions and health history.
Bringing invaluable insight and expertise, Dr. Alan Benvenisty is a board certified general and vascular surgeon in New York City. Dr. Benvenisty stands by his philosophy of treating patients as individuals, and he takes ample time to understand their concerns. For this reason, many seek his expertise when it comes to critical conditions of the aorta, including aortic aneurysms and other vascular-type illnesses. To schedule your appointment with Dr. Benvenisty, contact our office on Amsterdam Avenue today.