Vascular Stenting
As small, expandable tubes used to treat narrowed arteries in the body, stents reduce symptoms associated with a variety of conditions, including vascular conditions. For instance, when a blockage or narrowing of the carotid artery is detected, vascular surgeons may perform carotid artery stenting along with balloon angioplasty. The stent serves a very important purpose. Not only does it keep the artery open, it reduces the occurrence of re-blockage dramatically (which tends to be high with angioplasty).
In the same way, if a patient requires intervention for intestinal artery disease, stents may be used along with angioplasty and is generally the first line of treatment. In turn, stenting may be incorporated into an angioplasty procedure for renal and kidney arterial repair. To better understand, the angioplasty balloon accesses the renal artery by way of a catheter. The tiny balloon is attached to the end of the catheter as it is threaded to the area of stenosis or blockage. An un-deployed stent may be wrapped around the balloon. Once positioned correctly, both the balloon and the stent deploy together, pushing plaque and other fatty material to the sides of the arterial wall. While the balloon is deflated and removed, the stent remains to ensure that the vessel stays open.
Vein stenting may also be used in the treatment of deep vein thrombosis, nonthrombotic iliac vein compression lesions, coronary heart disease, claudication and other peripheral vascular disease conditions.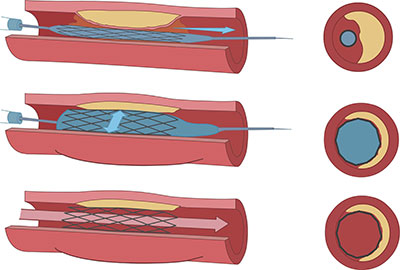 Minimally Invasive Stenting Techniques
As technology continues to be refined, particularly in the practice of stenting, physicians are at liberty to use them in more complex vascular repairs, including tiny blood vessels that branch off of major arteries. In other instances, dissolvable stents comprised of flexible material called polylactide are inserted into arteries (coronary arteries are one example) to help hold the arteries open and will naturally dissolve within two years of placement. In other cases, a drug-eluting stent (stent comprised of metal that is coated with time-released medication) may be used to open the arteries. For patients with advanced arterial disease, stenting presents an obvious benefit, as it is a minimally invasive technique with a lower risk of complications and shorter recovery.
With extensive knowledge and insight into all aspects of vascular disease and conditions, Dr. Alan I. Benvenisty is a highly respected vascular and endovascular surgeon in New York City. As a specialist in the diagnosis of vascular disease, Dr. Benvenisty favors minimally invasive options and treatments for arterial repair whenever possible. Dedicated to the philosophy of treating patients as individuals, Dr. Benvenisty's work with local patients has been chronicled in several newspapers throughout the city.
To speak with Dr. Benvenisty personally regarding your vascular concerns, contact our office on Amsterdam Avenue today.