Carotid Artery Disease and Stroke
As the two main blood vessels in the neck, the carotid arteries provide critical blood supply and oxygen to the brain. Yet, when these arteries are diseased and begin to thin due to plaque build-up, they can cause individuals to experience a transient ischemic attack (TIA), or mini-stroke. It's important to understand that TIA can mimic stroke-like symptoms, but these generally disappear within 24 hours and do not cause permanent brain damage. Even so, a TIA should be taken very seriously, as it could be a warning sign of an actual stroke.
When an area of the carotid artery becomes completely blocked, there is a sudden interruption in the flow of blood, resulting in a stroke. Portions of brain tissue that rely upon nutrients and oxygen supply provided by the carotid artery die, and this can happen in a matter of minutes.
Strokes are classified as ischemic or hemorrhagic. As the most common form of stroke, ischemic is the result of a blocked blood vessel. The location of the blockage determines the area of the brain that is affected as well as the extent of damage. While risk factors such as age, race and family history certainly affect one's chances of stroke, there are also other factors that result in blockage of the carotid arteries:
Atherosclerosis: build-up of plaque or fatty substances along the wall of the artery, resulting in a narrower channel for blood to flow through.
Blood clot: in some cases, blood clots can travel from other parts of the body, reaching the neck or heart and inhibiting the flow of blood.
Inflammation
Even so, there are factors that are lifestyle-related that also increase the risk of stroke. These include drug abuse (particularly the use of cocaine and heroin), smoking and lack of physical activity.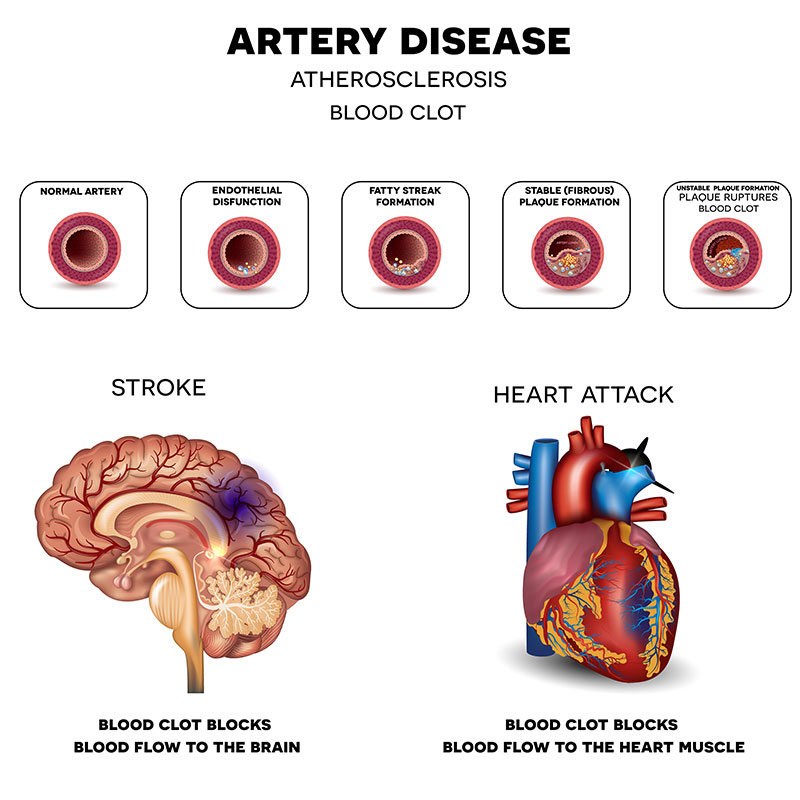 Medical Conditions and the Risk of Stroke
Medical conditions that increase one's risk of stroke include:
High blood pressure (hypertension)
High LDL cholesterol levels
Obesity
Metabolic disorders
Sleep apnea
Type 2 diabetes
Sickle cell disease
Polycythemia
Atrial fibrillation
Vascular dementia
Mitral stenosis (heart valve disease)
Peripheral artery disease
TIA (previous mini stroke)
Cancer
Autoimmune disease (may increase risk of blood clots)
Blood vessel abnormality
The following medical conditions are specific to women. They include:
Low bone density
Birth control pills
Previous case of pre-eclampsia
Menopause
Hormone replacement therapy (long-term use)
Pregnancy
Depression and anxiety
Stroke Symptoms, Diagnosis, and Treatment
Whether an individual is experiencing an ischemic stroke (blocked blood vessel) or hemorrhagic stroke (ruptured blood vessel), symptoms generally occur suddenly. Yet, symptoms are related to the area of the brain that is affected. In every case, immediate medical attention is necessary. The following symptoms are associated with stroke:
Numbness of the face, arm or leg on one side of the body
Feelings of confusion
Lack of coordination
Lightheadedness
Trouble speaking
Trouble walking
Severe headache (with no known cause)
For patients experiencing the above-mentioned symptoms, a variety of tests and screenings may be used to diagnosis a stroke such as a CT scan, MRI scan, magnetic resonance angiography (MRA), CT angiogram (CTA), Doppler ultrasound and blood tests.
Once a diagnosis has been confirmed, doctors will move forward with immediate intervention, with the goal of opening the blocked blood vessel and restoring blood flow to the brain, reducing the amount of brain damage.
Treatment for stroke may include medication (thrombolytic) to dissolve blood clots. Yet, in some cases, surgery is necessary. The following surgical procedures are performed to restore blood flow:
Extracranial or intracranial bypass: Involves rerouting the blood supply around the blocked artery using a blood vessel from the patient's scalp.
Embolectomy: The clot is removed or dissolved by a catheter that is inserted through the blood vessels to the clot.
Craniotomy: Known as a "decompressive surgery," this procedure reduces swelling in the brain.
Carotid endarterectomy: As a preventative surgery, this procedure removes fatty deposits from carotid arteries in the neck in order to avoid another stroke in the future.
Atherectomy of noncoronary vessel: As a preventative measure to reduce the chances of future strokes, the carotid artery is widened and a tube is inserted to keep it open.
Determining the best possible treatment for carotid artery disease and stroke involves extensive knowledge and understanding of a number of factors from family history to one's overall health history, habits and personal lifestyle. This is why Dr. Alan I. Benvenisty, MD is committed to the philosophy of treating patients as individuals. He understands that the best treatment is personalized and tailored to each patient. Perhaps this is achieved through a collaborative approach where the patient, vascular surgeon and cardiovascular specialist work together to navigate and develop a suitable plan that makes sense.
If you have been diagnosed with carotid artery disease or have had a previous stroke or heart attack, Dr. Benvenisty is currently accepting new patients at his office on Amsterdam Avenue. Contact us today to schedule your appointment.