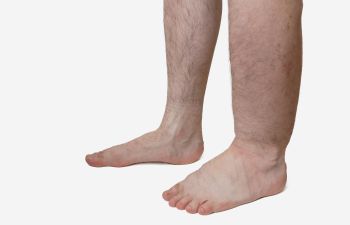 Blood clotting, known as coagulation, is the bodily process of plugging an injured blood vessel to stop bleeding. Platelets and proteins in the blood's plasma work together to stop the bleeding by forming a clot at the injury site. Blood clots are beneficial when they prevent the body from losing too much blood after an injury. Once the wound begins to heal, the clot usually breaks up. Yet, some blood clots form inside the veins without good reason and do not dissolve naturally. When blood clots do not break up, they can be dangerous and lead to severe medical conditions. While blood clots can develop in any part of the body, they are most likely to affect the legs – especially if you sit for long periods of time.
A blood clot in the leg can become embedded in one of the major deep veins of the leg and block circulation. Medically known as deep vein thrombosis (DVT), more than 350,000 people in the United States are affected by DVT each year. Knowing the warning signs and symptoms of a blood clot will allow you to receive the medical attention you need to avoid dangerous and life-threatening situations. It is important to know that some blood clots can occur with few to no symptoms, but in the majority of cases seeing help at the onset of the following symptoms can save your life:
Swelling in any part, or the entire, leg

A red or blue tinge to the skin of your leg

Itching of the leg without external cause

The feeling of warmth to the touch around painful areas in the leg

Lower leg cramping

Noticeable veins that are swollen or painful

Trouble breathing – this can mean that a clot has moved from your leg to your lungs. A bad cough may occur, and you may even cough up blood. You may get a pain in the chest. Call 911 immediately.
Dr. Benvenisty has the knowledge, expertise, and experience of using minimally invasive techniques to treat patients with deep vein thrombosis. Please do not ignore any of the symptoms of a blood clot. Contact our office today to schedule an appointment.
Posted on behalf of Dr. Alan Benvenisty
440 West 114th St, Second Floor
New York, NY 10025
Phone: (212) 523-4706
Monday & Friday 9:00 AM – 5:00 PM