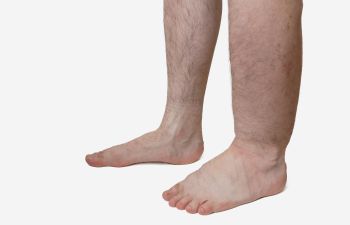 Arteries are responsible for carrying blood from the heart to the rest of the body, while veins are responsible for carrying blood back to the heart. Valves within the veins keep the blood from flowing backward. When blood is not sent back to the heart properly, it collects, or "pools," and remains in the veins. Chronic venous insufficiency (CVI) is the condition that occurs when the venous wall and/or valves in the leg veins are not working effectively, making it difficult for blood to return from the legs to the heart. Two leading causes associated with venous insufficiency are blood clots and varicose veins.
When blood flow is restricted due to a blood clot, the blood will naturally pool in the area beneath the clot. With varicose veins, valves may be impaired or missing, resulting in blood leaking through the damaged veins. The severity of chronic venous insufficiency (CVI), along with the complexities of treatment, increase as the disease progresses. The problem will not go away on its own, which is why it is imperative that you see a vascular surgeon if you have any of the symptoms of CVI. Symptoms include:
Edema (swelling) in the lower legs and ankles, especially after extended periods of standing

Aching or tiredness in the legs

Leg cramps

New varicose veins

Flaking or itching skin on the legs or feet

Leathery-looking skin on the legs

Skin color changes, particularly around the ankles

Leg ulcers
CVI is incredibly common. It is a disease that is more prevalent in women between the ages of 40-49, and men between the ages of 70-79. Yet, it can affect anyone with factors such as obesity, pregnancy, leg trauma, smoking, family history of venous insufficiency, inactive lifestyle, and phlebitis. If left untreated, venous insufficiency can cause serious complications like ulcers, bleeding, and a life-threatening condition called deep vein thrombosis (DVT).
Board Certified Vascular and Endovascular Surgeon, Dr. Alan I. Benvenisty, MD, provides an accurate diagnosis of venous insufficiency using state of the art venogram and ultrasound. If you are suffering from symptoms associated with venous insufficiency, contact Dr. Benvenisty today. With a philosophy of treating patients as individuals, Dr. Benvenisty provides conscientious care to all patients.
Posted on behalf of Dr. Alan Benvenisty
440 West 114th St, Second Floor
New York, NY 10025
Phone: (212) 523-4706
Monday & Friday 9:00 AM – 5:00 PM