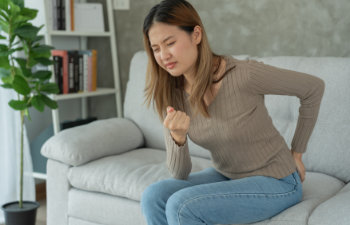 The kidneys, those two bean-shaped organs tucked away in your lower back, are crucial in maintaining overall health. They are the unsung heroes that balance electrolyte levels, regulate blood pressure, stimulate red blood cell production, and rid your body of waste.
When your kidneys begin to falter, they can send distress signals in the form of symptoms. The following five signs are indicative of potential kidney failure. However, you can find further information on this disease by visiting our kidney failure page.
1. Changes in Urination
One of the earliest signs of kidney trouble can be changes in urination patterns. This includes increased frequency and a sense of urgency, especially at night. Some individuals may notice blood in their urine, which is a red flag for potential kidney issues. Additionally, foamy or bubbly urine might indicate excess protein being expelled, which is abnormal.
2. Swelling (Edema)
When your kidneys aren't functioning as they should, excess fluid and sodium can accumulate in your body, leading to swelling in your legs, ankles, and feet. This condition is called edema and often occurs as the kidneys lose their ability to manage fluid balance. If you notice unexplained swelling, it's worth discussing with a healthcare professional.
3. Fatigue and Lethargy
Feeling unusually tired and lacking energy (despite getting enough rest) is another symptom that could point to kidney trouble. The hormone, erythropoietin, is produced in the kidneys produce and stimulates the production of red blood cells. When the kidneys are impaired, red blood cell production decreases, leading to anemia, which, in turn, causes fatigue and weakness.
4. High Blood Pressure
Kidneys play a crucial role in managing blood pressure. When they start to falter, your blood pressure can rise. This can be a silent symptom because high blood pressure is often asymptomatic. Regular blood pressure monitoring is crucial, especially if you have other risk factors for kidney disease.
5. Nausea and Vomiting
Nausea and vomiting are sometimes caused by a buildup of waste and toxins in the body. You may experience a feeling of general sickness and gastrointestinal distress.
Dr. Alan Benvenisty, MD
It's important to note that while these symptoms can be indicative of kidney issues, they can also be attributed to other health conditions. Due to this, it's essential to consult a healthcare professional if you suffer any of these signs, especially if they persist or worsen over time.
Early diagnosis and intervention are essential in managing kidney disease. Physicians employ various tests, including blood tests, urinalysis, and imaging studies, to assess kidney function accurately.
Dr. Alan Benvenisty, MD, an expert in kidney care in New York City, specializes in diagnosing and treating kidney conditions. He provides personalized patient care and explores suitable treatment options, striving to avoid dialysis when possible.
Kidney disease can progress through different stages, and timely intervention can significantly affect the outcome. Dr. Benvenisty's expertise in navigating the treatment options for chronic kidney failure and end-stage renal disease offers hope to many patients.
If you suspect kidney issues or have concerns about kidney health, don't hesitate to contact Dr. Alan I. Benvenisty's office on Amsterdam Avenue.
Posted on behalf of Dr. Alan Benvenisty
440 West 114th St, Second Floor
New York, NY 10025
Phone: (212) 523-4706
Monday & Friday 9:00 AM – 5:00 PM