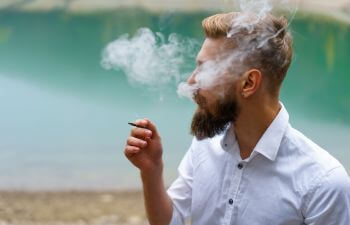 The arteries carry blood away from the heart, whereas the veins bring the blood back to the heart. Blood gathers in veins if it is not delivered back to the heart. When blood flow via veins is insufficient or unhealthy, it causes venous insufficiency.
Blood clots and varicose veins cause venous insufficiency, resulting in blood "pooling" in the legs. Lifestyle choices, like smoking, play a significant role in the development of varicose veins.
Ways Smoking Affects Veins
Vasoconstriction (narrowing of the veins) is an immediate result of smoking. Over time, this leads to irreversible changes in the venous linings that increase vein muscle tone. In addition, narrow veins make gravity against blood flow to the heart more difficult. Thus, blood pools in these hardened veins, causing varicosities.
In addition, the carbon monoxide and tar in cigarette smoke damage the veins. Carbon monoxide lowers blood oxygen, which can inflame and damage veins. Plus, the body releases infection-fighting white blood cells to eliminate the irritating chemicals, generating free radicals. These free radicals are associated with further vein inflammation, resulting in varicose changes.
Nicotine's Harmful Effects on Your Veins
When you smoke, your body acquires a dependency on nicotine. It's a stimulant that speeds up the heart's rhythm, raises blood pressure and shrinks the arteries. Nicotine also causes fat and cholesterol to be released into the bloodstream, resulting in artery hardening.
Smoking is an Unnecessary and Avoidable Risk
Factors like genetics, age and menopause are unavoidable risk factors. Smoking, on the other hand, is avoidable. In fact, quitting smoking and establishing an exercise regimen can even reverse some vein damage.
For example, suppose you stop smoking and start cardiovascular exercises involving your calves regularly. In that case, you will improve blood circulation through constricted veins, reducing venous insufficiency symptoms and improving your legs' appearance.
Suppose you are a smoker with varicose veins and are experiencing symptoms such as discomfort, numbness, discoloration and changes in the skin around the veins. In that case, you should consult your doctor or a vein expert like Dr. Benvenisty about treatment options.
There are numerous programs and drugs available to help you kick the habit. Therefore, to prevent your situation from getting worse, you must consult with a vein specialist to determine the best strategy for your situation. Please contact us for further information and to schedule a consultation today.
Posted on behalf of Dr. Alan Benvenisty
440 West 114th St, Second Floor
New York, NY 10025
Phone: (212) 523-4706
Monday & Friday 9:00 AM – 5:00 PM