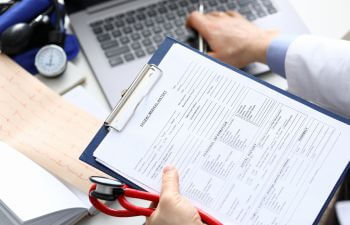 If you are suffering from poor circulation, there are associated health risks. Non-healing ulcers can develop quickly, infections are more serious, and amputation is often an unavoidable reality. In addition, when blood cannot flow through the arteries, you risk gangrene which can become life-threatening.
Without vascular testing, you may not even know you suffer from poor circulation. This potentially serious health condition can lead to a range of secondary complications. Once symptoms appear, it is often too late for treatments to produce effective outcomes.
Vascular Screening
At his New York offices, Dr. Benvenisty can provide vascular screening on a regular schedule. These appointments are set according to your specific health needs. Those with diabetes or a family history of circulatory or cardiovascular disease should take advantage of this service. If you smoke or are older than 65 will also benefit from vascular testing.
Vascular screening is a preventative measure. Proactive treatment can prevent health complications from developing. Self-care means avoiding life-threatening conditions when you are in a high-risk category for poor circulation.
Restoring Blood Flow
Dr. Benvenisty will determine the cause of your poor circulation before offering treatment. A consultation will involve exploring your medical history, family history, and lifestyle. He will then conduct a comprehensive examination to identify any contributing health issues.
Treatment plans are based on the individual needs of each patient. As a vascular health specialist, Dr. Benvenisty is an enthusiastic advocate of preventative medicine. If you are at risk of developing complications, regular screening is recommended as a precaution.
Symptoms of Poor Circulation
Many health conditions can cause poor circulation, presenting different symptoms. Shared symptoms include numbness, tingling, stinging, and cramps in the affected limb. An example of a condition that produces unique symptoms is peripheral artery disease. In addition, sufferers may experience erectile dysfunction, which does not occur with other types of poor circulation.
If you develop any symptoms associated with poor circulation, Dr. Benvenisty can provide diagnosis and treatment. However, please, you mustn't ignore these potentially serious health conditions. Call our New York offices today for an appointment.
Posted on behalf of Dr. Alan Benvenisty
440 West 114th St, Second Floor
New York, NY 10025
Phone: (212) 523-4706
Monday & Friday 9:00 AM – 5:00 PM