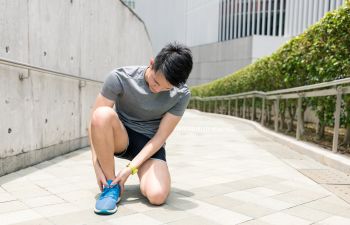 When a blood clot is embedded in one of the major deep veins of the leg, the circulation of blood is blocked. This can result in sudden or acute pain and causes swelling or warmth in the leg that is affected. Medically known as deep vein thrombosis (DVT), more than 350,000 individuals in the United States are affected by it every year. There are steps you can take to prevent blood clots in your legs.
Diet
Along with any foods that you eat to prevent blood clots, always incorporate drinking plenty of water. A study conducted at the University of Wisconsin found that drinks (such as red wine or purple grape juice) rich in flavonoids could help prevent blood clots by making platelets. Garlic has blood-thinning properties and eating it regularly may help prevent blood clots. An article in the American Journal of Clinical Nutrition found that virgin olive oil could help prevent blood clots due to its phenol content.
Exercise
Keep your ankles moving by doing ankle circles. Move your foot up and down in a circular motion. You can do this while sitting, standing or laying down.
Take steps that are similar to stepping on and off a gas pedal. You can do this while sitting, standing or laying down.
From any position, squeeze your buttocks by squeezing your butt cheeks and then relaxing them.
Give you knees a hug by clasping your hands just below one knee and pull it as far in toward your chest as you can. Repeat with the other knee.
Contact Dr. Alan Benvensity Vascular Surgeon today for other ways to prevent and help with Deep Vein Thrombosis.
Posted on behalf of Dr. Alan Benvenisty
440 West 114th St, Second Floor
New York, NY 10025
Phone: (212) 523-4706
Monday & Friday 9:00 AM – 5:00 PM