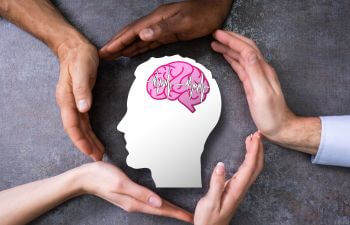 It is estimated that one in every six cardiovascular deaths is from a stroke. On average, someone has a stroke every 40 seconds in the U.S. – and every 3 ½ minutes, someone dies from a stroke. One of the best ways to prevent death from a stroke is to recognize the early signs in yourself or others, then seek immediate medical attention. Knowing some of the most common stroke symptoms can alert you to a cerebrovascular event.
What Happens During a Stroke?
A stroke occurs when blood supply is cut off to the brain. This can occur due to a blocked artery (ischemic stroke) or a burst/ruptured artery (hemorrhagic stroke). When the artery is no longer providing blood and oxygen to a portion of the brain, it can be damaged. The signs of a stroke depend on what artery and portion of the brain are affected, which is why the signs of a stroke can be different in each case.
Signs You May Be Having a Stroke
When a stroke occurs, symptoms can begin suddenly. You may feel fine but notice a few changes in your movements, senses and cognitive abilities that may alert you to an attack on your brain. Signs that you may be having a stroke include:
Severe headache
Dizziness or vertigo
Trouble walking due to balance or incoordination
Blurry or reduced vision
Difficulty speaking or slurred speech
Numbness or weakness on one side of the body (arm, hand, leg, face, etc.)
Confusion
Unfortunately, many people dismiss the signs of a stroke. They can be similar to side effects from heat, medications or dehydration. It is helpful to have others around that can also recognize the signs and get medical help for those having a stroke.
Act F.A.S.T. for Signs of a Stroke
There is a quick test you can perform if you think someone is having a stroke. The CDC recommends the "act F.A.S.T." test, which involves:
F-FACE. Have the person smile and check to see if both sides of the mouth move upward.
A-ARMS. Have the person raise both arms and hold at shoulder level and see if one dips lower.
S-SPEECH. Have the person repeat a simple phrase and listen for slurred speech or irregularities.
T-TIME. If you see signs of a stroke, call 911 immediately for a medical emergency.
If you or a loved one had a stroke, treatment may require vascular surgery. Dr. Benvenisty is one of the top vascular surgeons in NYC who works with patients and cardiologists to provide comprehensive stroke treatment. Call our office today for a consultation.
Posted on behalf of Dr. Alan Benvenisty
440 West 114th St, Second Floor
New York, NY 10025
Phone: (212) 523-4706
Monday & Friday 9:00 AM – 5:00 PM