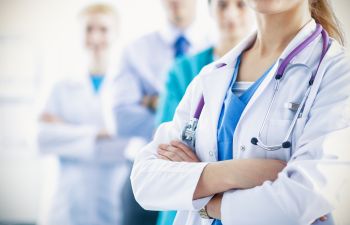 Acute limb ischemia is caused by a sudden decrease in blood flow to the hands and feet. While this type of ischemia is usually because of chronic peripheral artery disease, it can also occur in relatively healthy blood vessels through trauma or other clot formations. Unlike chronic ischemia, which develops slowly over time, acute ischemia occurs rapidly and is an emergency.
Five Signs of Acute Limb Ischemia
The telltale sign of limb ischemia is cold, mottled skin with a red, blue or purple coloring. The additional signs are:
Pain

. Your affected limb may hurt even if you lay down, and it may hurt more to elevate the limb. The pain may be severe enough that your clothes touching your skin will be uncomfortable.

Pulse

. There may be little to no pulse in the affected limb. It will depend on which part of the vascular system is blocked, and if there are any other major blood vessels serving the area.

Pale

. Due to the lack of blood flow, the limb will be very pale compared to the rest of your skin.

Paresthesia

. You may have tingling or a 'pins and needles' sensation.

Paralysis

. The complete inability to move all or part of the affected limb.
Treatment Options
Your specialist will evaluate your limb to determine which steps should be taken and how quickly the medical team needs to act. Since lack of blood flow can cause permanent damage or loss of the limb, your specialist may order heparin to break up the clot. They may also perform a thrombectomy or arterial surgery to remove the clot.
Acute Limb Ischemia Is an Emergency
If you believe you are experiencing acute limb ischemia, you must seek treatment immediately. The faster you receive treatment, the more likely your limb can be saved. If you have intermittent symptoms of limb ischemia, a specialist should evaluate you before the situation becomes an emergency.
Dr. Benvenisty is an experienced vascular surgeon, with expertise in diagnosing and treating vascular conditions, including acute and chronic limb ischemia. To prevent an acute limb ischemia emergency, contact the New York office today for your consultation.
Posted on behalf of Dr. Alan Benvenisty
440 West 114th St, Second Floor
New York, NY 10025
Phone: (212) 523-4706
Monday & Friday 9:00 AM – 5:00 PM