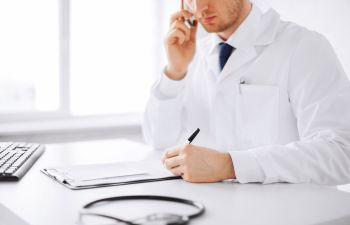 Many people hear of someone having a blood clot, but they are unfamiliar with the specifics of this dangerous condition. A blood clot is a clump of blood that has changed from a liquid to a gel-like or semisolid state. When the clot occurs within an artery, it can prevent blood from flowing to and from certain parts of the body, causing devastating consequences.
A blood clot, or thrombus, can cause severe problems, including:
Pain, swelling, numbness, or tingling in the arm or leg
Muscle pain or tenderness in the arm or leg
Post-thrombotic syndrome, PTS (enlarged veins)
Tissue death
Loss of function of an organ
Pulmonary embolism (can be fatal)
When a blood clot, or thrombus, forms in a blood vessel blocking the flow of blood, vascular specialists may perform a thrombectomy to remove the clot. This is a minimally invasive endovascular procedure that can be used in veins of different sizes, and it has become a suitable treatment to prevent tissue and organ damage.
Traditionally, drug therapy has been used to clear blood clots and restore blood flow. However, drug therapy is much more effective in small blood clots, but it is often insufficient for large clots. Thrombectomy has been developed and refined over time as a means of removing a blood clot. During a surgical thrombectomy procedure. the surgeon will make a small incision in the area above the blood clot. The blood vessel will be opened, and the blood clot will be removed. Typically, an image-guided catheter with a balloon attached to the end is threaded through the blood vessel to the site of the blood clot. The balloon is inflated to expand the vessel. A stent may be placed permanently within the vessel to keep it open and maintain healthy blood flow.
Dr. Alan I. Benvenisty is a vascular surgeon who has been instrumental in treating numerous vascular conditions with conservative, non-invasive techniques. Dr. Benvenisty has a reputation for providing individualized treatment to patients. Contact our office on Amsterdam Avenue today.
Posted on behalf of Dr. Alan Benvenisty
440 West 114th St, Second Floor
New York, NY 10025
Phone: (212) 523-4706
Monday & Friday 9:00 AM – 5:00 PM