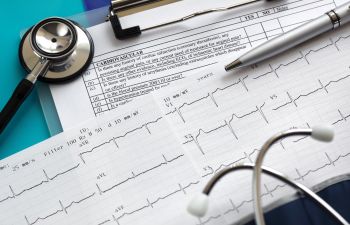 The carotid arteries are the two main blood vessels in the neck, which supply critical blood supply and oxygen to the brain. When these arteries are diseased and begin to have plaque buildup, they can cause people to experience a transient ischemic attack (TIA), also known as a mini-stroke. A transient ischemic attack is a temporary period of symptoms similar to those of a stroke. A TIA should never be ignored as it is often a warning of trouble to come.
Typically, a TIA will mimic stroke-like symptoms but will be very short. While a TIA usually lasts only a few minutes without causing permanent damage, the symptoms can sometimes last as long as 24 hours. It is not uncommon for people to ignore the symptoms of a TIA after they have disappeared because they often think something along the lines of: "Well, that was weird. I thought it might be something serious, but now everything is fine. I guess I don't need to go to the doctor." It is those thoughts that can lead to serious, even deadly, consequences.
An interruption in the flow of blood to the brain will result in a stroke. Portions of brain tissue that rely upon nutrients and oxygen supply provided by the carotid artery die during a stroke, which can happen in a matter of minutes. The location of the blockage determines the area of the brain that is affected and how much damage will occur. Knowing the symptoms of a stroke can save your life. Symptoms generally occur suddenly and are related to the area of the brain that is affected. The following symptoms are associated with stroke:
Numbness of the face, arm, or leg on one side of the body
Feelings of confusion
Lack of coordination
Lightheadedness
Trouble speaking
Trouble walking
Severe headache (with no known cause)
Blurred vision or blindness in one or both eyes
In the majority of cases, TIAs most often occur hours or days before a stroke. Therefore, seeking medical attention is essential. Prompt evaluation and evaluation may help to prevent a stroke.
Dr. Benvenisty provides the best, most personalized treatment for each patient. If you have experienced a TIA or stroke symptoms or have been diagnosed with carotid artery disease, please contact our practice today.
Posted on behalf of Dr. Alan Benvenisty
440 West 114th St, Second Floor
New York, NY 10025
Phone: (212) 523-4706
Monday & Friday 9:00 AM – 5:00 PM