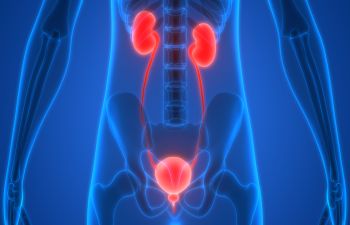 The kidneys are "bean-shaped" organs that sit on either side of the spine, below the ribs and behind the stomach. The kidneys' main job is waste excretion, while they also regulate blood volume, blood pressure, blood pH, electrolytes, and metabolites in the body. The role of the kidney is to produce urine and send it to the bladder, where it will be excreted from the body. Urine is 90-95% water and 5-10% solids. As blood travels into the kidney through arteries and capillaries, blood plasma squirts out of the capillary and moves into the urinary system. This is where filtration takes place. As the filtration occurs, blood and water move through the renal system until urine is produced and then sent to the bladder.
The kidneys have a very complex circulatory and filtration system. Though the kidneys are the size of a fist, they pump all of the blood of the entire body several times a day. They are an essential organ of the whole body. When the kidneys do not function properly, the body will become septic because waste will not filter out. If blood stops flowing into a kidney, part or all of it could die. Numerous health conditions and abnormalities result from damaged or diseased kidneys:
Uncontrolled diabetes
Hypertension (high blood pressure)
Urinary tract infections
Kidney stones
Polycystic kidney disease
Kidney failure
A primary concern regarding kidney disease is that it presents no symptoms in its early stages. Kidney disease is often referred to as a "silent killer," because many people do not know they are suffering until the disease has become severe.
If you suffer from recurrent kidney stones, urinary tract infections, have high blood pressure, are African American, or have a family history of kidney disease, it is imperative that you are proactive in managing your health. Dr. Alan I. Benvenisty has extensive experience in vascular diagnosis and treatment for kidney disease and renal failure. Contact our practice today.
Posted on behalf of Dr. Alan Benvenisty
440 West 114th St, Second Floor
New York, NY 10025
Phone: (212) 523-4706
Monday & Friday 9:00 AM – 5:00 PM