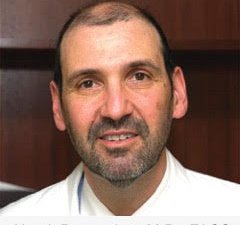 Dr. Alan Benvenisty Vascular Surgeon is passionate about your cardiovascular system. He offers an extensive list of options to help diagnose and get to the bottom of all of your cardiovascular needs. Your vascular needs are linked to your larger cardiovascular system. Understanding this system helps us help you.
Your cardiovascular system, or circulatory system is responsible for transporting blood to the various tissues throughout the body. It is comprised of the heart and blood vessels such as arteries, veins and capillaries. 
You actually have two main systems within the circulatory system. The pulmonary circulation is a short ring from the heart to the lungs and back again. Your systemic circulation (this is the system you usually relate to when you think of your circulatory system) directs blood from the heart to all other parts of your body and back again. 
Your heart is the biggest component of your circulatory system. It's the director! It receives messages from your body to say whether to pump more or less blood. It usually beats 60 to 100 beats per minute. It can go much faster if necessary. Your heart beats about 100,000 times a day.
When your heart and cardiovascular system are working well, you can sometimes take for granted what a great gift it is to you and your body. However, when a problem arises due to a malfunction or issue in the cardiovascular system, it's time to become informed and find a doctor like Dr. Alan Benvenisty to help you get on the right track to heart health.
Posted on behalf of Dr. Alan Benvenisty
440 West 114th St, Second Floor
New York, NY 10025
Phone: (212) 523-4706
Monday & Friday 9:00 AM – 5:00 PM