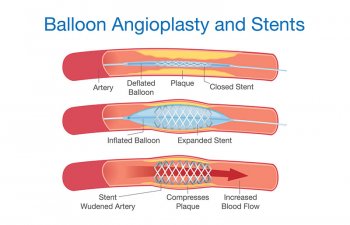 Balloon Angioplasty is a minimally invasive procedure designed to open and improve blood flow in the body's arteries and veins; balloon angioplasty has become a very popular treatment method for a variety of vascular conditions. If your doctor recommends a Balloon Angioplasty there are some things you can expect as you recover from the procedure.
You should expect to spend some time in the hospital after your procedure. You will need adequate time to recover. At first you may feel groggy from the sedative. Your doctor will let you know when you can walk. Typically patients are able to walk within 2 to 6 hours following the procedure. Patients usually stay overnight and return home the day after the procedure. Some may even go home the same day. The amount of time that you stay in the hospital will depend on if there were any difficulties during the procedure, and how well the catheter insertion site is healing.
If your procedure is relatively normal, you are typically able to return to work and normal routines after about a week. If your job requires heavy labor, you will need to wait longer. You will need to wait for your doctor to give you the "go ahead" before entering back into your normal routine.
After your procedure it's important to have the expectation that you will need to make adjustments to you life and schedule for a period of time. If you have family and friends around to help you to heal and recover, your recovery can go more quickly. Rest is important.
Contact the office of Dr. Alan Benvenisty Vascular Surgeon for all of your vascular needs.
Posted on behalf of Dr. Alan Benvenisty
440 West 114th St, Second Floor
New York, NY 10025
Phone: (212) 523-4706
Monday & Friday 9:00 AM – 5:00 PM