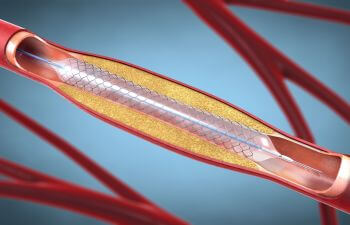 Vascular stenting is a minimally invasive treatment to open collapsing vessels within the body. It entails placing a stent within the restricted vessel. Several medical conditions affect the vessels in our bodies, all of which can be treated with stents.
After you undergo vascular stenting, Dr. Alan I. Benvenisty may prescribe antiplatelet medications like aspirin for up to a year to reduce the risk of blood clot formation, which can cause life-threatening complications.
Types of Stents
Stents are created from different materials and serve varying functions based on their intended location within the body and the health condition they will treat. For example, some stents are designed to be placed in the bronchial airways of the lungs, the bile ducts to and from digestive organs, the ureters that channel urine from the kidneys to the bladder or blood vessels.
The following stents are designed for treating vascular conditions.
Bare Metal Stents

Bare metal stents are mesh tubes used in the coronary and carotid arteries.

Drug-Eluting Stents

Coronary arteries typically get drug-eluting stents. They have medicine coated on them, which is released slowly into the artery to keep it from constricting again. There are many varieties of drug-eluting stents, each coated with a particular medication.

Biodegradable Stents

Stents made of biodegradable materials degrade in a matter of months. Therefore, this stent is appropriate and beneficial for short-term solutions when the condition only requires temporary use. Its most significant advantage is that you will not need another treatment for removal since it disintegrates.

3D Printed Stents

The FDA just recently gave their permission to 3D printed stents in 2020. These stents can be tailored to the needs and dimensions of each patient.
Treatable Conditions
Vascular stents are implanted in arteries to keep them from narrowing or getting blocked completely. You may benefit from vascular stenting if you have atherosclerosis or have recently suffered a heart attack.
Plaque buildup occurs in people who have peripheral arterial disease, carotid artery disease, renal artery disease and coronary artery disease. In addition, vascular stents are helpful for patients with abdominal aortic aneurysms and other types of aneurysms, deep vein thrombosis patients (those with a blood clot in the arm, leg or pelvis) and other vascular disease conditions.
New York's vascular and endovascular surgeon, Dr. Benvenisty, is a highly experienced and respected specialist in diagnosing and treating vascular diseases. Contact his office to schedule an appointment if you are concerned about your vascular health.
Posted on behalf of Dr. Alan Benvenisty
440 West 114th St, Second Floor
New York, NY 10025
Phone: (212) 523-4706
Monday & Friday 9:00 AM – 5:00 PM